3 Ways Control4 Makes Smart Home Control Effortless
With Control4, there are multiple ways you can access, manage and control your smart technology with ease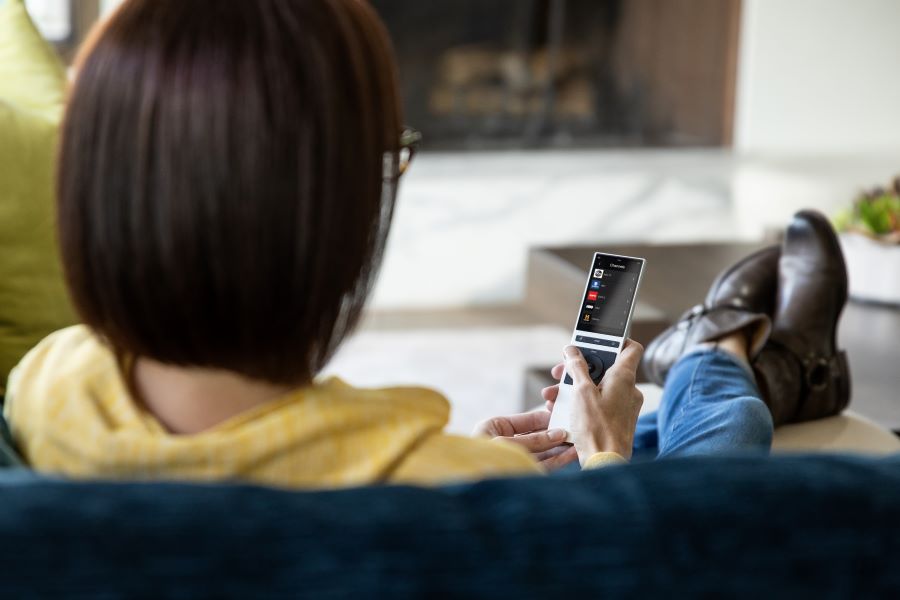 Do you have a designated "tech guru" in your household, the only person able to figure out how to turn on the TV, switch between cable and streaming, and locate all those episodes of Brooklyn 99 you recorded on DVR? As our technology has gotten more complex, it's also gotten more difficult to operate if you're not familiar with how the systems work.
We're sorry to say that technology hasn't gotten any less complex… but our control interfaces have become increasingly more streamlined and straightforward to use. Control4 has led the charge to create interfaces that make home technology accessible to everyone, not just the IT wizards.
As your trusted Control4 dealer in Vancouver, WA, we can help you build a connected home where you can control everything from one device like a smartphone app or handheld remote. Keep reading to learn 3 ways Control4 makes smart home control effortless.
SEE ALSO: Listen to Our Control4 Podcast Episode!
A Smartphone App
With Control4 home automation, you can control all the smart systems in your home using nothing more than your mobile phone. Download the Control4 app to your phone and instantly access your audio/video systems, smart thermostat, home lighting, security and surveillance, and other connected devices. Create custom settings, schedules and scenes across multiple smart systems and store everything in one app on your phone.
One of the primary benefits of mobile control is that everyone in your family can download the Control4 app to their phone and use the household's connected devices. Your kids and spouse will have the freedom to play movies and TV in different areas of the house and set the lighting and temperature to their preference wherever they are. If you have relatives coming to stay, they can download the Control4 app and use your home's smart systems during their visit.
Mobile control is fantastic for smart technology and home automation because most people are already familiar navigating and interacting with smartphone apps. It's a very accessible interface for smart tech newbies and entire families.
The Neeo Remote
Control4 launched the handheld Neeo remote at the end of 2019. It's innovative in its design: Neeo is sleek, modern and has both hard buttons and a touchscreen interface for smart home control. You can store, access and manage all your smart systems and devices in one place, eliminating the need for multiple remotes that control different devices. The touchscreen interface has picture-based icons (just like a smartphone app) that you can use for one-touch control to play Netflix, turn on lights or adjust the temperature. The hard buttons are perfect for performing actions we're familiar with using remotes for, like changing the volume on a movie, skipping a song on Spotify or pressing play/pause on media.
When >> Then Automation
Scene automation offers smart tech users deeply personalized home control and the ability to control multiple smart systems at once. Using when >> then settings allows you to build custom scenes that activate automatically on a set schedule or with the press of a button on your control interface. For example, you could create an automated evening scene that looks like this: when the sun sets, then the outdoor porch lights turn on, the window shades roll down, and the outdoor surveillance cameras begin recording. Or you can build and save a scene that looks like this: when you tap the "Dinnertime" button, then the overhead kitchen lights dim, the dining room lights turn on, and the smooth jazz station on Pandora plays softly in the dining room.
Maybe you want to create scenes using lighting, climate and window treatment settings that change seasonally or alter for Daylight Saving Time. You can manually adjust your scenes at any time, or you can contact Encore Audio Video to do it for you! If our techs design and install your smart home systems, we can remotely change your scene settings whenever you want. Just call us or shoot us an email.
Come C4 Yourself at Encore Audio Video
Ready to see Control4 technology in action? At the end of October, Encore Audio Video is hosting a "C4 Yourself" day in our state-of-the-art showroom. Come and check out our demonstrations of home automation features and explore the technology for yourself. We'll also be talking about the two new products Control4 is launching this year (more on that to come!).

For more information, give us a call at 503-224-9400 or fill out a contact form, and we'll be in touch.

No video selected.