Which Home Entertainment Space Is the Best Fit for Your Family?
We'll help you discover if a private cinema or multipurpose media room is better suited to your needs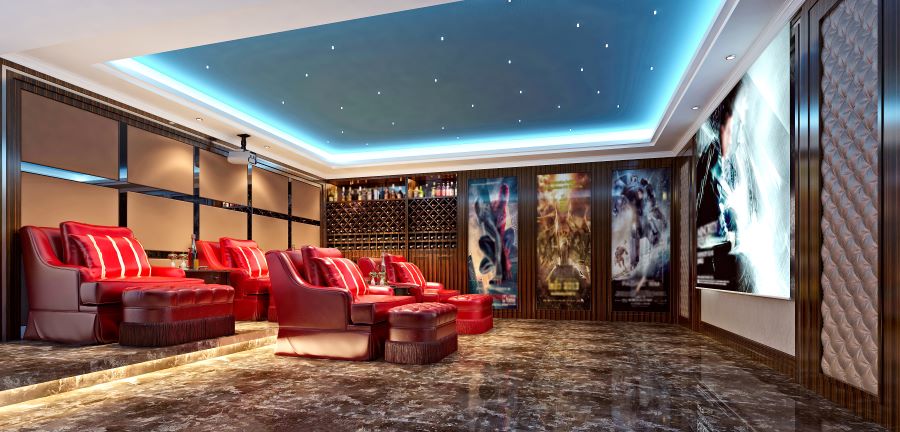 A home entertainment space is a central part of your Portland, OR household. It's where you, your family, and your friends gather to watch movies, find binge-worthy content on Netflix, log into online gaming, have karaoke contests, and laugh over funny YouTube videos. Having an inviting, comfortable, and well-supplied home entertainment setup adds significant value to your life, whether you're hosting a party or relaxing solo.
The right setup starts with knowing the kind of entertainment space you need to satisfy everyone in your household. Is a private cinema or multipurpose media room the best fit for your home?
Let's explore the differences between the two setups to help guide you down the right path.
SEE ALSO: Elevate Your Home Entertainment With a Private Cinema
Private Home Cinema
A home cinema (or home theater) is a room dedicated to recreating — and even surpassing — the commercial movie theater experience. Space permitting, a home theater can support a 100-inch plus 4K movie projector screen accompanied by a surround-sound audio system to capture the authentic cinematic feel. Theater-style seating is arranged in tiers or rows to ensure that every seat is the best seat in the house.
Ideally, home cinemas are built in acoustically isolated and windowless rooms to guarantee complete control over the audio and ambient lighting in the space. Every aspect of a private cinema is geared toward achieving the optimal viewing and listening experience. Acoustic room treatments, lighting fixtures, seating fabric, wall and floor materials, and paint colors are all carefully selected with the intent of optimizing audio, video quality, and lighting control.
The final effect is an entirely immersive movie-watching experience. If your go-to form of entertainment is escaping into a fantastic film and you want to enjoy the experience with few distractions, a private cinema might be the right fit for you.
Multipurpose Media Room
A multipurpose media room is a space outfitted to support several types of entertainment — not just watching content. Media rooms are much more geared toward casualness, flexibility, and sociability. Many homeowners convert a living room, family room, or great room into a multipurpose space with the help of AV equipment, lighting control, and shading control.

Media rooms can support one or several large-screen 4K or 8K TVs, a movie projector (short-throw screens are the perfect fit for small rooms), and surround-sound audio. Seating is typically more flexible — you might opt for couches in front of one TV, a loveseat in front of a second TV, and comfy bean bag chairs scattered throughout the room. Besides a movie-watching and online gaming area, your media room can include space for other activities like a pool table, karaoke stage, or board game area.

Lighting and audio aren't as well-controlled in a media room. Noise distractions — from elsewhere in the house or other activities in the room — are inevitable in a media room. However, designing your room with high-quality equipment, acoustic room treatments, motorized shades, and smart lighting control can deliver top-notch viewing and listening experiences for movies, sports matches, video games, and streaming music.

 

If you like to enjoy multiple forms of entertainment while spending time chatting and laughing with your family and loved ones, a multipurpose media room might be the right fit for you.

You don't have to make a final decision right now — let the Encore Audio Video team help. We'll walk you through your options and uncover more information about your lifestyle to help you choose the best entertainment setup for the entire family. Give us a call or fill out an online contact form to get in touch with our experts.

No video selected.