Elevate Your Smart Technology Experience With Control4's New T4 Touchscreen
Control4's newest interface is available as a sleek tabletop or in-wall touchscreen display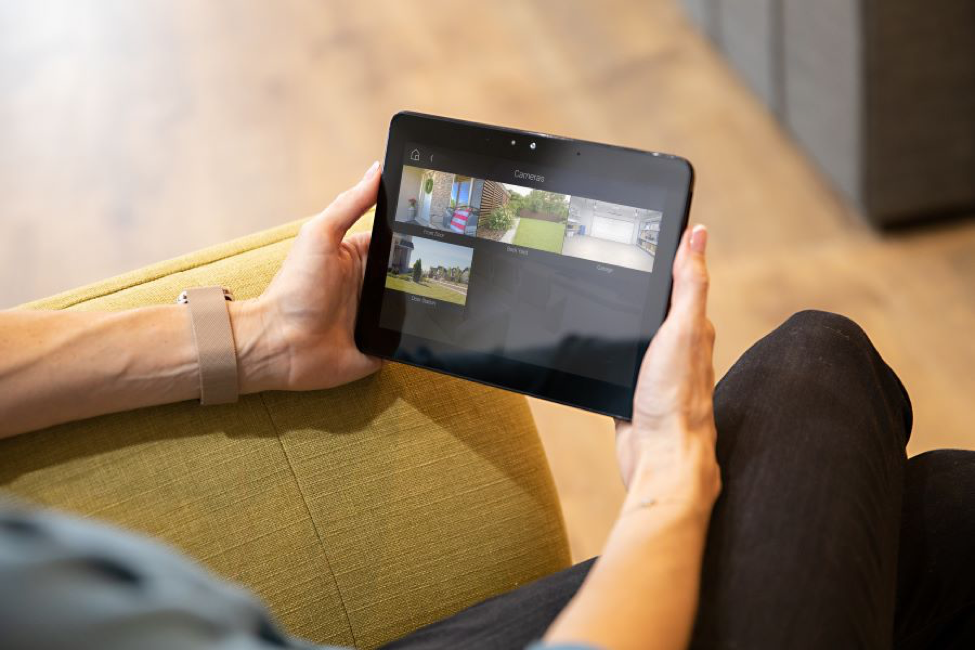 This month, we're all about Control4 at Encore Audio Video. Throughout November, Control4 dealers across the country (including Encore Audio Video in Portland, OR) are opening their certified showrooms and allowing customers to see and experience Control4 automation and smart home technology for themselves.
One of the things we'll be highlighting this C4 Yourself month is Control4's new T4 touchscreen. Many Control4 users are already familiar with the touchscreen interface — the T4 is a direct descendant of the T3 touchscreen. But the refreshed T4 has improved features that further elevate the smart home experience. Keep reading to learn more!
SEE ALSO: 3 Ways Control4 Makes Smart Home Control Effortless
So What's New?
The T4 touchscreen improves upon the primary features of the T3 touchscreen. It has a bright, high-resolution screen, dual microphones, more robust speakers, a faster processor, and automatic ambient light adjustment. Faster processing power and enhanced audiovisuals improve the smart home experience for users with the new Chime video doorbell, OS 3, and Intercom Anywhere.
T4 is easy to install and set up in new smart home installations or as a replacement to the T3 touchscreen in existing Control4 smart homes. Select wall-mounted or tabletop options for one or several rooms in your home. Perhaps you only want one touchscreen in the great room because it's your family's centralized gathering and entertainment space. Or maybe you want a touchscreen in every room to display personalized room settings that you can instantly adjust when you walk into a new room.
Tabletop touchscreens connect via Wi-Fi for a straightforward, tool-less setup. In-wall touchscreens connect via ethernet cable or Wi-Fi and are compatible with T3 backboxes for a hassle-free retrofit solution.
T4 Touchscreens Deliver Comprehensive Smart Home Control
The T4 touchscreen is a smart and convenient way to manage and interact with all the technology in your home. When you enter a room, you can see a complete overview of your entire smart home, from audio/video, lighting, security, shading, climate, and more. At night, a quick glance at the touchscreen on your bedside table can tell you if all the doors are locked, the lights are off and the alarm is on. If you have multiple touchscreens in several rooms, each display screen can showcase personalized scenes and most-used devices for that specific room.
When someone rings the new Chime doorbell or steps into a motion zone on the porch, the T4 will instantly receive and display a video or picture image on the screen. Using two-way audio and the T4's robust sound system, communicate with whoever is at the door without leaving the couch – even if your touchscreen is across the room. When you arrive home after work, simplify your routine by tapping the "I'm Home" button on the wall-mounted touchscreen inside the front door. Instantly, the door locks behind you, the kitchen and living room lights turn on, the outdoor surveillance cameras activate, and the thermostat adjusts to a cooler temperature.
With the introduction of the T4 touchscreen, Control4 has proven yet again their prowess in straightforward and seamless smart home control.
Want More? Come C4 Yourself This Month.
November is C4 Yourself month in Encore Audio Video's certified Control4 showroom. We encourage you to make an appointment, see the technology for yourself, and learn all about home automation from a premier Control4 dealer in Portland, OR.

For more information on our C4 Yourself event, call us at 503-224-9400 or reach out through an online contact form. We can't wait to see you soon!

No video selected.