DESIGN YOUR HOME THEATER WITH THESE HIDDEN TECHNOLOGIES
Make your home theater appear and disappear with the touch of a button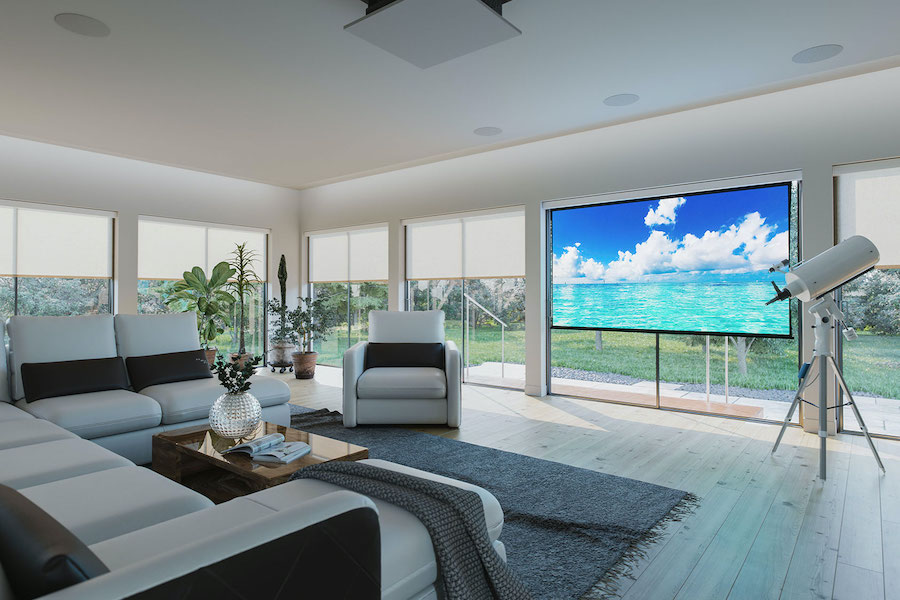 For many, a home theater is a desirable addition to a home. Having a high-quality display and a top-notch audio and video system for watching movies and shows is a dream. Nowadays, designing and installing a home theater is a project more and more homeowners are taking on. You don't even need to build a separate theater room — you can transform any room in your Lake Oswego home into a multi-purpose media room by pressing a button.
Here are hidden technologies you should know about before building your Oregon home theater — technologies that you can tuck away when you're not using them but easily access when you want to bring your theater to life.
SEE ALSO: Encore Audio Video Presents: How to Improve the Quality of Your AV Equipment
TV OR PROJECTOR LIFTS
Most of us love having a TV in different rooms around our home, but sometimes they get in the way of our furniture or affect a room's aesthetic. With TV lifts, you can hide away your TV when you're not using it. There are so many ways to use a TV lift; some ideas are having your TV descend from your ceiling, or rise from specially-designed furniture. Hiding your TV inside framed artwork or having a TV that can change into a mirror are other unique options!
If you want to go down the projector and screen combo route for your home theater, you can also put your projector in a lift. You can easily hide it inside your ceiling when it's not in use and press a button to have it descend when it's movie time. For your screen, you can motorize it so that it's hidden when you're just hanging out. After pressing a button, it can lower when you want to watch something.
SPEAKERS
What's great about speakers is that you can also conceal them like TVs and screens. Speakers can go beyond how TVs can be hidden. There are in-wall and in-ceiling speakers that can be placed against a wall material and then get finished over with the surrounding surface with just a sleek grill showing, making them practically invisible and a part of your walls. With these speakers, you'll never have to worry about equipment looking bulky or out of place inside your home.
LIGHTING
Your home theater's lighting can also aid the transformation. There's indirect lighting you can install, such as dimmable wall sconces that provide a subtle and soft light throughout the room. You can also have lighting fixtures that are recessed within the ceiling. If you have stairs leading to your theater room (such as home theaters in a basement), you can install unobtrusive LED lights under stair treads that are activated when the movie's on and subtle enough to not interfere with your viewing experience.

Are you ready to have a home theater that reveals itself at the touch of a button? Contact our team of professionals at Encore Audio Video. We're passionate about designing home theaters for our customers that are made to impress. Reach out to us today — we can't wait to hear from you!

No video selected.